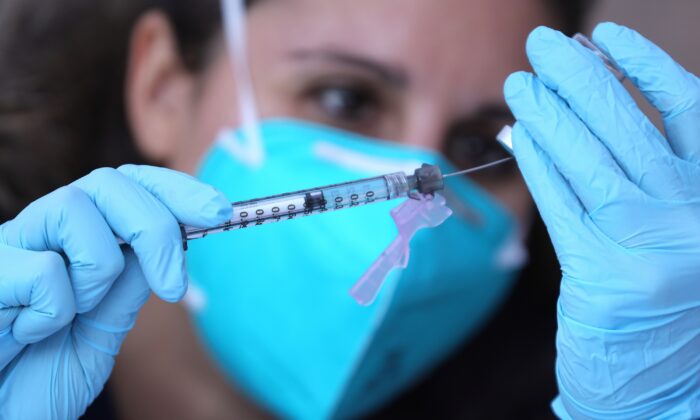 Fed­er­al author­i­ties are inves­ti­gat­ing after some COVID-19 vac­cine recip­i­ents have devel­oped the rare blood dis­or­der throm­bo­cy­tope­nia, with at least sev­er­al cas­es result­ing in death.
A Food and Drug Admin­is­tra­tion (FDA) spokesper­son told The Epoch Times via email that the agency is inves­ti­gat­ing and assess­ing the report­ed cases.
"At this time, we have not found a causal rela­tion­ship," the spokesper­son said. "We will update the pub­lic as we learn more about these events."
The blood dis­or­der was list­ed by the FDA last year as a pos­si­ble adverse event out­come from get­ting a COVID-19 vac­cine, along­side oth­er seri­ous adverse events like Guil­lain-Bar­ré syn­drome and death.
Sev­er­al dozen case reports of post-vac­ci­na­tion throm­bo­cy­tope­nia have been sub­mit­ted to the Vac­cine Adverse Event Report­ing Sys­tem (VAERS), a pas­sive report­ing sys­tem man­aged by the FDA and the Cen­ters for Dis­ease Con­trol and Pre­ven­tion. Approx­i­mate­ly 44.7 mil­lion dos­es of COVID-19 vac­cines have been admin­is­tered in the Unit­ed States as of Feb. 10.